But Saul, still breathing threats and murder against the disciples of the Lord, went to the high priest and asked him for letters to the synagogues at Damascus, so that if he found any belonging to the Way, men or women, he might bring them bound to Jerusalem. Now as he went on his way, he approached Damascus, and suddenly a light from heaven flashed around him. And falling to the ground he heard a voice saying to him, "Saul, Saul, why are you persecuting me?" And he said, "Who are you, Lord?" And he said, "I am Jesus, whom you are persecuting. But rise and enter the city, and you will be told what you are to do." The men who were traveling with him stood speechless, hearing the voice but seeing no one. Saul rose from the ground, and although his eyes were opened, he saw nothing. So they led him by the hand and brought him into Damascus. And for three days he was without sight, and neither ate nor drank.
[T]he Lord said to [Ananias], "Go, for [Saul] is a chosen instrument of mine to carry my name before the Gentiles and kings and the children of Israel. For I will show him how much he must suffer for the sake of my name." So Ananias departed and entered the house. And laying his hands on him he said, "Brother Saul, the Lord Jesus who appeared to you on the road by which you came has sent me so that you may regain your sight and be filled with the Holy Spirit." And immediately something like scales fell from his eyes, and he regained his sight. Then he rose and was baptized; and taking food, he was strengthened.
Acts 9:1-9, 15-22
Hymns: By All Your Saints in Warfare LSB #517: 12
The People That in Darkness Sat LSB #412
The Conversion on the Road to Damascus. 1660. Caravaggio.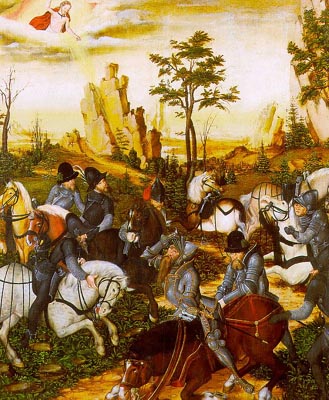 The Conversion of St. Paul. 1545. Lucas Cranach the Younger.
The Conversion of St. Paul. 1430. Fra Angelico. (Missal Illumination)
(couldn't identify)
(Couldn't identify)
Conversion of St. Paul. c.1542. Michelangelo.
I went a little overboard with the art, but there is so much from which to choose, and so much theology to draw out of them! Notice three of the paintings have Christ's WORDS to Paul written right in the painting (one has the Alpha and Omega figures). Even pre-Reformation artists understood how important Christ's spoken Word is in converting the sinner. Christ speaks salvation to us; we are not saved by our dramatic experiences (although we may have those). So often I hear old-time Evangelicals--or even conservative Reformed types--talk about giving testimonies, which end up focusing on a dramatic psychological experience or change of heart (subjective), instead of speaking God's Word (objective, and always efficacious). Often "testifiers" put the pressure on others to have a dramatic conversion experience (like Paul), when really it was God's spoken Word, the laying of hands and baptism that converted Paul. God speaks to us and converts and sustains us when we hear his Word proclaimed and when we are baptized, just like Paul!
Talking to my kids about Paul's conversion, I focused on Jesus as the Word speaking salvation to Paul. We also talked about Jesus as the Light of the world, and how light allows us to see things, and how much better light is than darkness. I tried to talk a bit about Paul as a missionary, telling people outside Israel about Jesus. They had lost interest by then. If you have older kids, though, think about showing them how Paul's conversion, with its emphasis on Jesus' (blinding) light, and Paul's eventual preaching to the Gentiles ties so well with those Epiphany themes.