After they had given them a severe flogging, they threw them into prison and
ordered the jailer to keep them securely. Following these instructions, he put
them in the innermost cell and fastened their feet in the stocks.
About midnight Paul and Silas were praying and singing hymns to God, and the
prisoners were listening to them.
Suddenly there was an earthquake, so violent that the foundations of the prison were
shaken; and immediately all the doors were opened and everyone's chains were unfastened.
Acts 16:23-26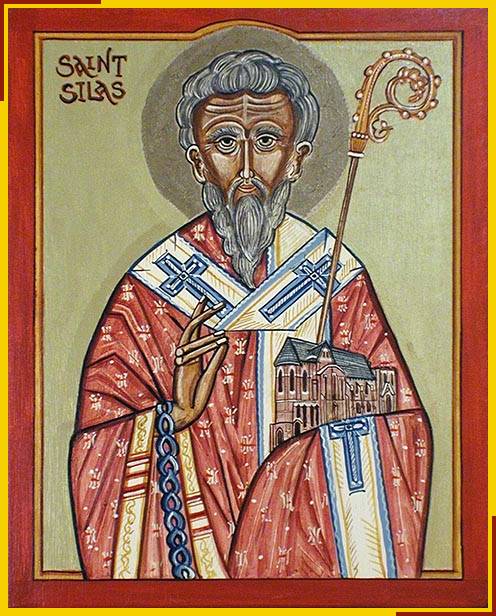 To commemorate St. Silas we will read about his imprisonment with Paul,
color
some
coloring sheets
, and
pray
for
Christians today who are imprisone
d. We also will
sing
"By All Your Saints in Warfare" (LSB 517, Stanzas 1 and 3). (Any other hymn would be appropriate, since Paul and Silas were singing in prison.) If there's time/sustained interest we will make some
paper "prison chains."
Here's a
free coloring book
about Paul and Silas. The art is inferior, but you have options. I found it through
this site
, which has a lot of other free Bible story coloring pages.
Silas is the semitic form of Sylvanus, which means woods/forest, so maybe older kids could do some sort of tree research project on St. Silas Day (identify all the trees in their backyard; if sap has started running in your region, tap some maples; if you have a woodburner, find out what trees make the best, hottest and longest burning firewood). Of course, the real reasons for remembering Silas should be religious and Gospel-oriented. However, I would like to eventually expand our family's feast day celebrations into school and learning topics.